Join Terrace
St Joseph's College, Gregory Terrace, is a Catholic School in the Edmund Rice tradition for young men in Years 5 to 12.
Our College motto, Servire Deo Sapere or 'To Serve God is to be Wise' articulates our commitment to the formation of 'Gentlemen of Terrace' to be a young man of faith and learning who will make a difference through knowledge, humility and wisdom.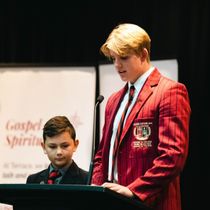 Faith & Mission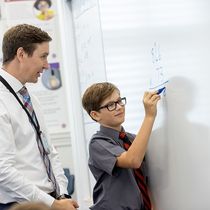 Teaching & Learning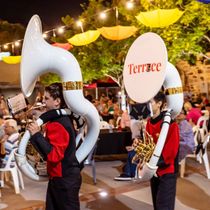 Culture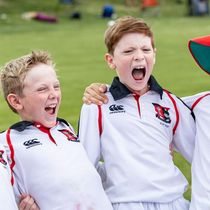 Sport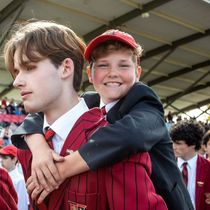 Atmosphere of Care
As a part of the life and mission of the Catholic Church, we animate the Charter for Catholic Schools in the Edmund Rice tradition.
Through the provision of quality Religious Education and Gospel-centred formation initiatives, we develop young men who see a personal knowledge of Christ, the humility to serve and the wisdom to act for compassion and justice in our world.
We provide an encouraging, nurturing and supportive learning environment that promotes academic excellence.
Our staff are committed to excellence in both teaching and learning. We emphasise mutual respect of our students that values and fosters the partnership among staff, students and families. We have a student-centred approach to teaching and learning that tracks and mentors students, teaches explicit skills to maximise learning, recognises academic achievement and improvement and encourages reflective learning. We aim for each student to embrace a love of learning and to use his gifts and opportunities to make a positive difference in society.
The cultural program is part of a comprehensive and inclusive co-curricular program that fosters teamwork, relationships, a sense of fair play, personal excellence and humility.
Cultural activities are designed to enhance the holistic educational experience of students. The College has a rich history of outstanding achievements in an array of Cultural pursuits.
The sporting program is part of an extensive co-curricular program that creates a strong sense of pride in the College.
Sport provides invaluable life lessons for students, designed to compliment their classroom endeavors. The College has a proud history of involvement in the Great Public Schools' (GPS) Competition.
We are a learning community that values and acknowledges the gifts offered by each person of the College community.
We create opportunities to develop and strengthen relationships that enhance and support the well-being of students and staff. The House System and the dedicated Year 9 Waterford Place campus are at the core of a suite of formation experiences designed to deliver the best care for all students. We commit our energies to forming young men of faith and learning who will make a difference to the world.
The Touchstone
The voice of the Terrace Family
College Events
Connecting the Terrace Family